The ALL NEW Powerflow Performance Line for Stock 6.7L Powerstroke Equipped Trucks
---
---
"After installation of the Pusher Intake System on my 2015 6.7 Superduty, I saw a noticeable increase in throttle response, system performance, and power. Fuel economy has also improved. Fit and finish is top shelf, and it cleans up the engine bay nicely. You won't believe how restrictive the OEM intake is, this system performs!"
- Scott K, Sebastian FL. R&D Customer, 2015 model year. Campground / motocross weekend warrior who uses his Powerstroke for regular highway towing.
---
The all-new Pusher Powerflow Intake Manifold / Turbo Inlet Package addresses the weakest airflow component of the 6.7L Powerstroke engine since its inception: the anemic factory intake manifold.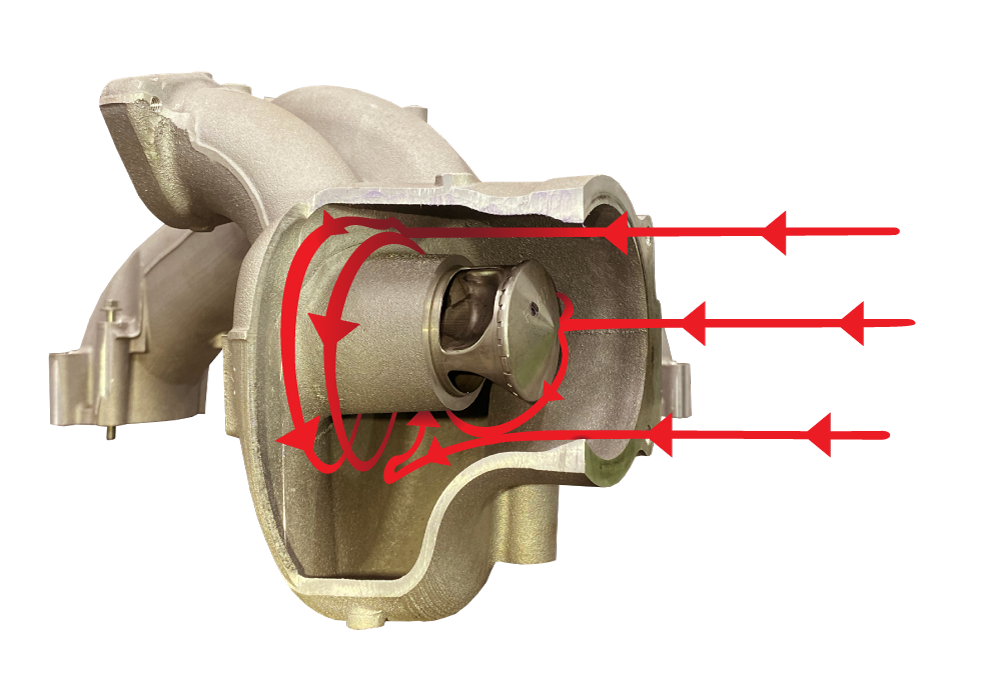 On the stock intake manifold (shown here) when air passes through the throttle valve it is immediately disrupted by the EGR boss followed by a solid wall – forcing it to be directed in nearly a 360-degree spiral pattern. With the Pusher Powerflow design, we've redirected the EGR flow to join the intake stream at an acute angle and have eliminated the "wall" entirely, netting a whopping 66% increase in airflow.
Because the stock turbo inlet is integrated into the factory intake manifold on the 2015 and up model year trucks a new turbo inlet is necessary to install any form of new intake manifold. The Pusher Powerflow Turbo Inlet design results in a 15% increase in airflow over stock while still maintaining the factory mounting points and CCV plumbing.

The best part - upgrading your engine with our Powerflow intake manifold delivers maximum and perfectly equalized air flow to each cylinder head while also providing provisions for your factory emissions equipment.
The entire system is constructed around mandrel-bent steel tubing with CNC-machined sensor ports and flanges for an insanely rugged system designed and built to last the life of your truck.
Fully TIG welded with precise settings to achieve optimum penetration without compromising airflow.
Compatible with our popular cold and hot side charge tubes for the 6.7L Powerstroke platform, as well as all major cold air intake designs currently on the market.
Available in six powder coat colors, or in natural finish ready for you to custom coat.
Includes all necessary hardware and OEM quality gaskets along with full color instructions.
WHAT YOU CAN EXPECT
Reduced EGT's
Improved fuel economy
Increased turbo spool and throttle response
Easier access to engine components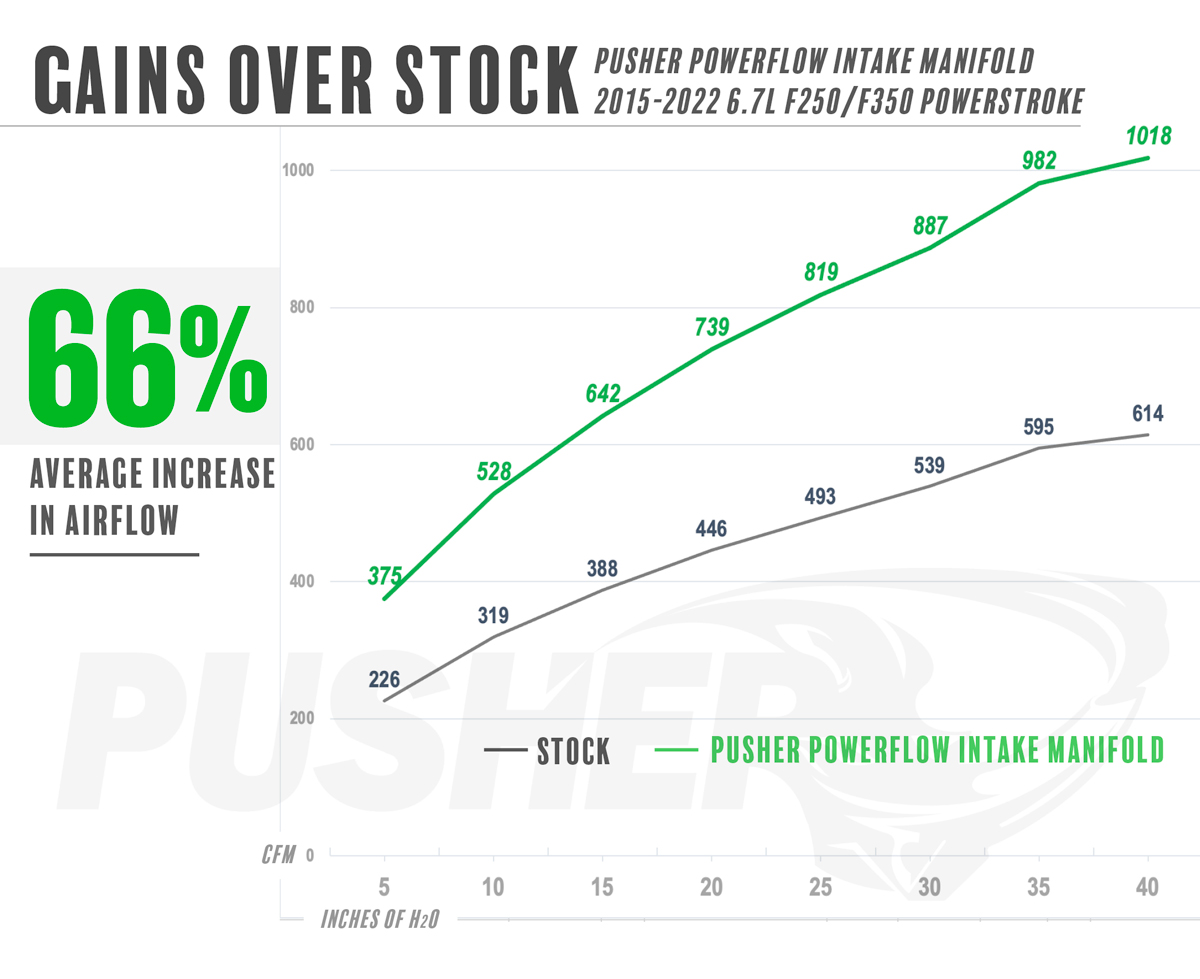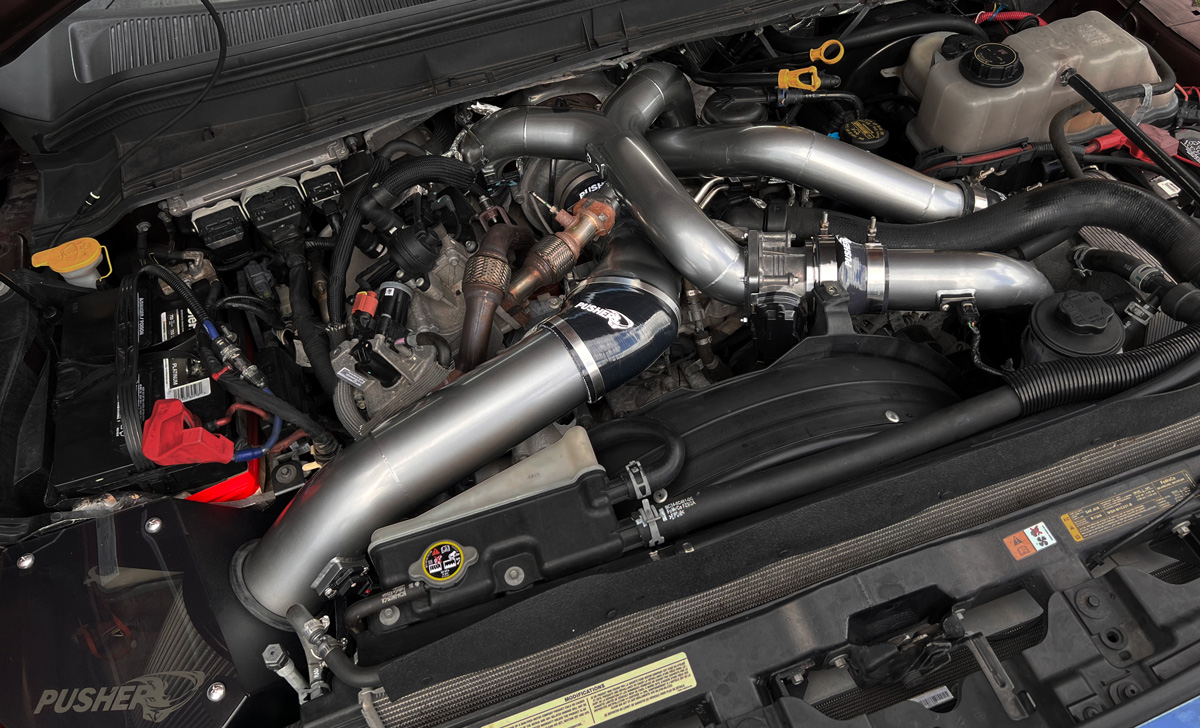 Pictured: The Powerflow Intake Manifold and Turbo Inlet, paired with the Pusher Hot & Cold Side Charge Tubes (Throttle Valve Adapter) and the soon to be released Powerflow Cold Air Intake.